Here is the basic information on processing check donations
1. Checks Should be Made Out to "Fractured Atlas"
Donors should make their checks payable to "Fractured Atlas". It is extremely important that all checks are made out to "Fractured Atlas" ONLY.
We cannot accept checks that are made out to you, your company or your "project name/Fractured Atlas" and we will return them to you if you send them to us. Also, please DO NOT endorse checks made payable to Fractured Atlas.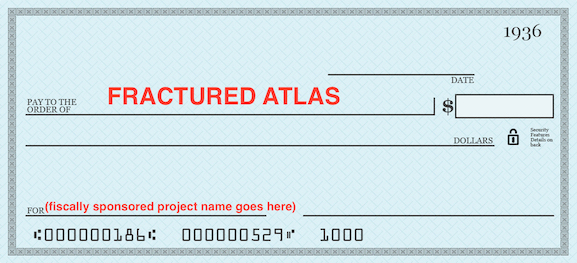 Example Check
2. Individual Donors Then Send Checks to the Project's Address
Checks should then be sent or given directly to you as the project in order to report the donation online through your My Fiscal Sponsorship Page. Please note: Checks that are sent directly from the donor to the Fractured Atlas office may be mailed back to you or the donor.
3. Report the Check Donation on your "My Fiscal Sponsorship" page
Reporting the check donation online allows us to process the donation in a timely fashion for the appropriate sponsored project, and issue accurate tax receipts while keeping detailed records of donations. See [THIS LINK] for instructions on reporting check donations.
3. Once Reported - Checks Should be Sent to Fractured Atlas
Donation checks should then be sent to the Fractured Atlas office immediately after you receive them from the donor and report them. Our bank will not accept checks that are older than six (6) months. If a donation check is more than two (2) months old, we will ask you to verify with the donor that the check is still active before we can process it.
Our mailing address is:
Fractured Atlas
P.O. Box 55
Hartsdale, NY 10530-0055
Things to Keep in Mind
Check Donations of $5000 or More Require a Major Gift Letter
Donations of $5,000 or above made by check require a Major Gift letter. We need this letter on file for each gift of $5,000 or more for our annual accounting audit. Since the precise language used is important to ensure the tax-deductibility of the gift, we ask that you use the form we provide for download on the "My Fiscal Sponsorship" page of the website. Fractured Atlas must receive this form in order to process the donation and make such funds available for release to your project. It's best to submit it digitally when you report the donation online or mail a hard copy with the check.
Donations are held for 7 calendar days
Once a donation is processed, it will be held in your fund balance with us for 7 calendar days before it is made available to request for release. This allows the donation to clear within all parties systems before being utilized for project activities. We advise planning on at least 10 business days from when a donation is processed to having the funds within you account once all procedures are followed.

Cash Donations Cannot be Accepted by Fractured Atlas
Sorry, we can't accept bills or coins. We can accept checks and donors can give online by credit/debit card. You can accept cash donations directly, separate and apart from your fiscal sponsorship and at your own risk. These donations are solely your responsibility (including the responsibility to ensure proper registrations and/or licenses). Fractured Atlas will not accept nor issue a tax receipt for cash donations.
Money Orders Cannot be Accepted
We can't accept donations in the form of money orders. Cashier's checks drawn off the donor's account are okay, but we do not accept money orders.
Returned Checks / Checks Unable to be Processed
In cases where a donor's check has been returned by our bank for any reason (most commonly for insufficient funds), we will alert you to the situation and immediately reduce your fund balance to reflect the net change. If a replacement check is received from the donor, it can be processed into your fund at that time. It is your responsibility to contact the donor and request a replacement check.