As a fiscally sponsored project of Fractured Atlas, you will primarily manage your fiscal sponsorship online using the My Fiscal Sponsorship page.
To access the My Fiscal Sponsorship page, log in at www.fracturedatlas.org, click 'My Fiscal Sponsorship'.
Please note that you can only access this page if you are logged into your membership on our website and you have an active fiscally sponsored project.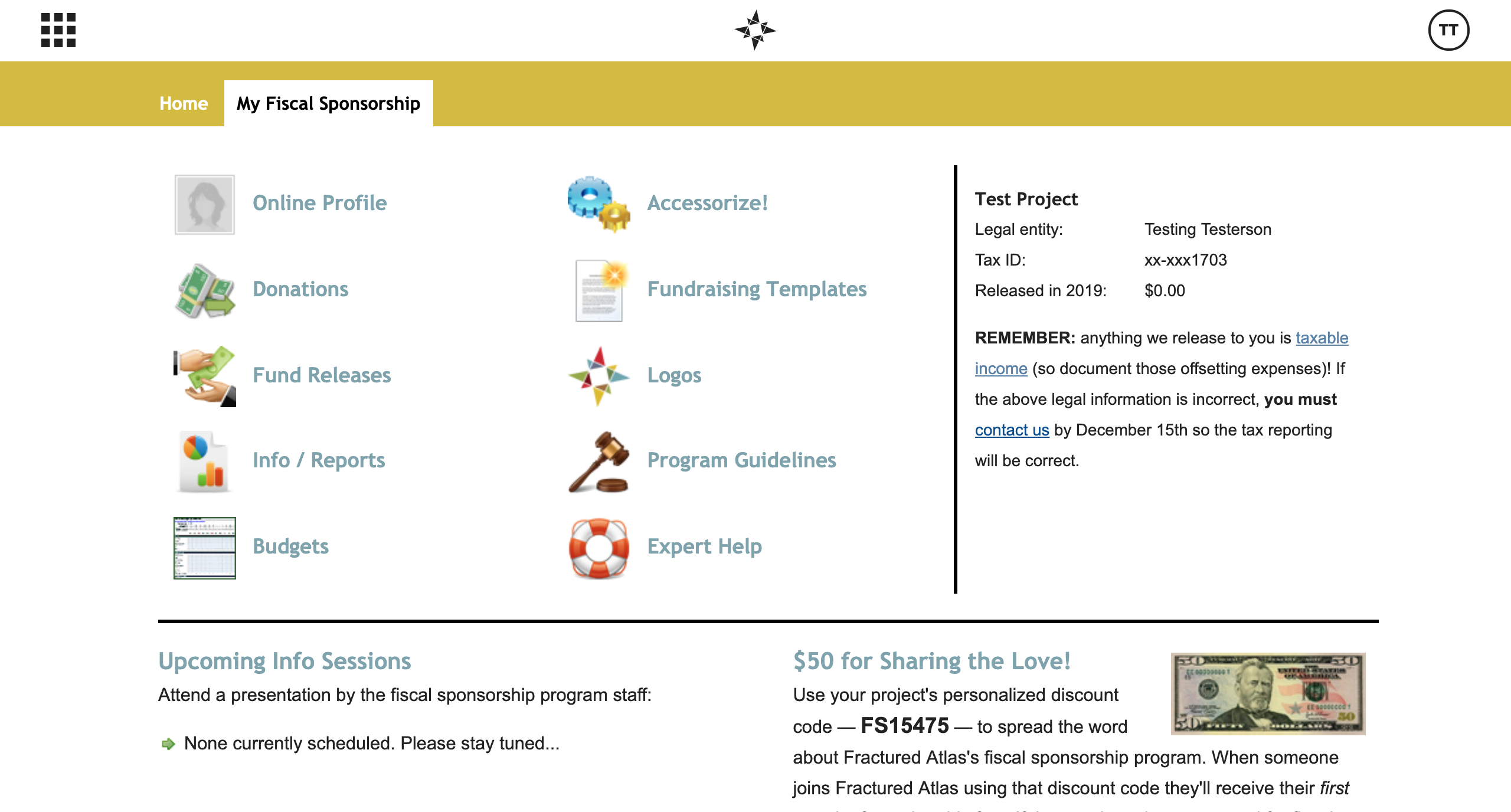 Click on any of the buttons displayed to manage your sponsorship:
Online Profile
View your 'Current Profile' as it appears on our website.
'Edit Profile' to make changes to your public-facing project profile page, like adding a video or image, updating your project description, and adding links to your website and/or social media pages.
Donations
Online:

'My Donation Page' links to your online profile on our website. This is the link to send supporters to make a donation by credit card.
'Share/Embed' links on your project's website to navigate your supporters to your donation page.
Add 'Giving Levels' to your project profile to receive partially-deductible donations.
Checks:
Non-Monetary Property:

'Report' noncash donations received for your project.
Find 'Instructions' related to receiving and processing noncash donations for your project.
Download the 'Noncash Donation Letter' to have your donors complete when they donate item(s) in support of your project.

Sponsored Fund History

View 'My Donation History' to review all donations received for your project. From here, you can find donor contact information and download tax receipts to send to donors.
Fund Releases
Info/Reports
'Fund Balance' displays all funds received (available and not available) that have not yet been released for project-related expenses.
'Available' fund balance displays all funds currently available for release from your sponsored fund.
View 'Full Fund History' to review all donations, fund releases, and annual reports received/processed over the lifetime of your sponsorship. From here, you can download a spreadsheet of all transactions.
'File [YEAR] Annual Report' to complete and submit the annual report form.
Budgets
'Manage Budgets' to view your application budget or add a new budget to plan for new projects/activities.
Accessorize!
Fundraising Templates
Download a template for an 'Individual Appeal Letter' to solicit donations from individuals.
Download a template for a 'Grant Letter of Inquiry' (LOI) to submit to a funder.
Download a template for a 'General Grant Proposal' to apply for a grant.
Download a template for a 'Project Budget.'
Download an 'Invoice Template' and a 'Sample Completed' invoice for reference.
Logos
Download a logo with the ideal 'Web resolution.'
Download a 'Hi-res for print use' logo.
Program Guidelines
Read a 'Summary of Policies and Procedures.'
Download a signed copy of your 'Sponsorship Contract.'
Download 'Tax Information for Your Accountant.'
Expert Help
Complete a quiz to find out: 'Should I Become a 501(c)(3)?'
Find 'Legal Assistance' near you.
Find 'Accounting Assistance' near you.
Find 'Additional Resources' related to fundraising, fiscal sponsorship, and nonprofits.