Giving levels are a great way to structure your standard contribution levels and incentivize donors with rewards/perks. They don't necessarily have to be material rewards! You can offer handwritten "thank you" notes, invitations to rehearsals, shoutouts in credits, etc. For donors, acknowledgment of this kind can be very gratifying and encourages a feeling of investment in your project.
This Knowledge Base Article provides instructions on how to add them to your General Support page.
First, log into www.fundraising.fracturedatlas.org and click "General Support" on the Dashboard. Then click "Named Giving Levels."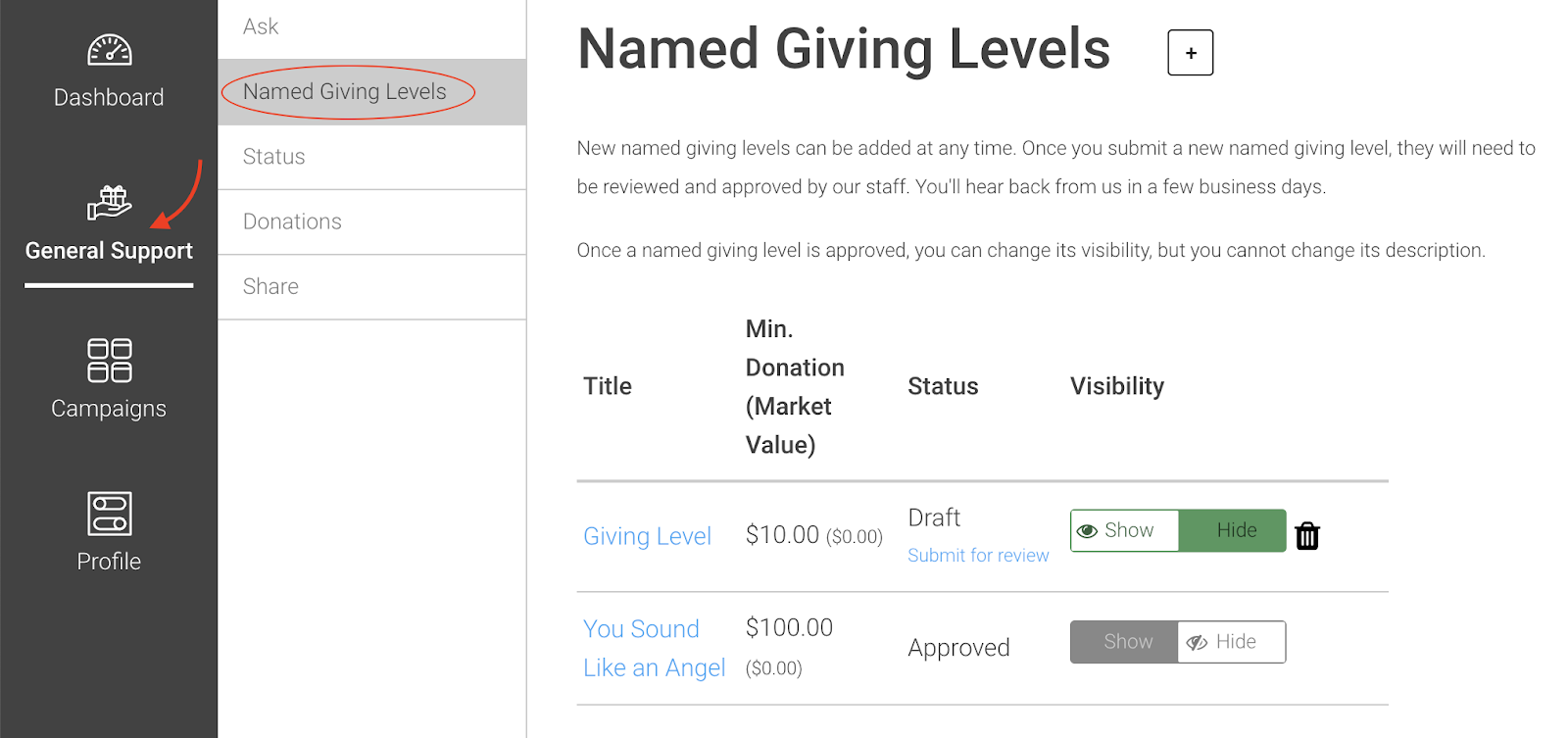 Click "+" at the top of the page to create a new giving level.

On this page, enter the following details:
Giving Level Name

Be as creative or straightforward as you'd like!

Description

Include details of what the donation will cover and what the donor will receive as a reward.

Minimum Donation Amount

Start on the low end and keep the increments reasonable with tiered rewards.

Market Value Amount

Any time a donation is incentivized with gifts, this makes the donation partially-deductible and you are required to declare the value of the gifts. For anything that is not for regular sale, or will never be for sale, you can indicate the value of the raw materials used to produce the item. See the

Partial-Deductibility

Article for more details.
When you are satisfied with the giving level, click "Submit" and our staff will approve it within 1-2 business days.
If you'd like to make changes to your rewards after submitting (but before approval), simply
delete
the levels and then resubmit.
Once your rewards have been approved, they cannot be deleted (to maintain transparency and accurate records), but they can be hidden from public view. To edit or 'replace' an obsolete reward, simply toggle the reward to "Hide" and create new ones as needed.