In this article, we will dive into the similarities and differences between general fundraising and crowdfunding. Yes — they are two separate things! Both different avenues for raising the funds you need to get your art on track. We will go through the best instances for using each platform and how they work in their own unique fashion.
General Support Fundraising
General Support fundraising is a way for your artistic project to raise funding 365 days a year. There are no deadlines, goal amounts, or end dates.
How it Works
Just as any nonprofit is able to accept donations at any time, our fiscally sponsored projects are able to receive donations by credit/debit card or check throughout the year. This form of fundraising is available immediately after being accepted into Fractured Atlas's Fiscal Sponsorship Program. Using the information that was supplied in your application, a "General Support" page goes live right as your project is accepted.
When is General Funding Best?
Operating Costs
All project activities have a cost, including administrative fees, supplies, utilities, and work space rental. These costs often make up your annual budget. In order to stay on top of these yearly costs, your General Support page allows you to accept donations on a consistent basis.
Creating a Donor Base
You want to create a long-lasting relationship with your donors, this means keeping in touch and having a format for donors to give without time limits. The General Support funding page allows you to make those annual asks to donors come giving Tuesday!
Monthly Recurring
Donors have the option of giving to your project on a monthly basis. This allows for those who cannot give all at once a chance to give more over time. This option is available to all donors when they visit your regular donor landing page with Fractured Atlas.
*Please note, rewards/perks cannot be offered to donors who give on a monthly basis
Continuing to Reach a Goal
After a successful, or not so successful, crowdfunding campaign, it is always a great idea to let your constituents know that they can still give on your general support page.
Tip: You can offer incentives!
Giving back to your donors in appreciation of their support is a great way to build long-lasting relationships and get donors to give more. The great news is your General Support page allows giving levels for you to show your appreciation. Make sure that you indicate the value of any items you are offering, as this allows us to generate the proper tax receipt. See an example below.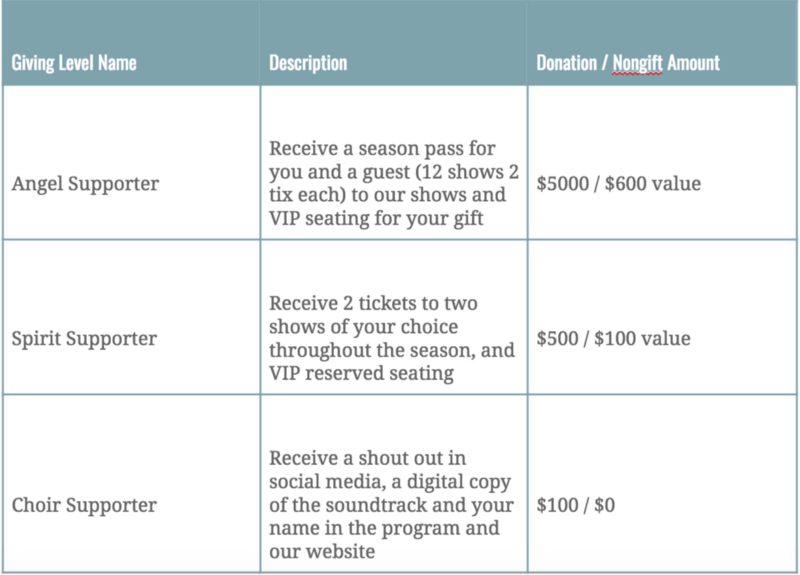 Checklist for General Funding
I am interested in funding with no specific time frame

My goal amount reflects more of my annual budget

I am building lifelong supporters

I am soliciting monthly donations
Crowdfunding
Funding through a crowdfunding campaign allows you to set a funding goal amount, a timeframe of when you need to raise it by, and is a great way to crowdsource your work.
How it Works
Setting up a crowdfunding campaign is a platform where your project can build a specific page for meeting a set goal within a time period you indicate. You can provide media such as an image or video, describe the work you are looking to fund, and include rewards levels for your donors to give to and receive different offerings in appreciation.
When is Crowdfunding Best?
Fundraising for a specific program or activity
Set out to raise money for a portion of the overall work you do with your project. This can be a specific run of a theater performance, fall sessions of an after-school program, or paying artists for a performance tour.
There is a set deadline for the funds to be raised
Fundraising for a specific program activity means there is a specific timeline the funds will be needed to execute the work. Setting the goal date for the funds to be raised gives donors the incentive to give right away, and allows the project to get the funds in the timely fashion needed for the work.
Use of the raised funds is targeted and reflected in the goal amount
A crowdfunding goal takes into account the budget for the specific activity as well as your constituency. It is said that the average donation with Fractured Atlas is $75, and a third of the people you reach out to will actually donate. Be sure to take this into account with fundraising goals.
The project organizers have capacity to devote time and energy to outreach
Crowdfunding campaigns are about crowdsourcing your art, getting the word out to as many people as possible to expand your reach, and exciting and motivating current and new donors about your work. Having ample time and a regular schedule of posting and sharing is essential for crowdfunding. Your donors will be the people you reach out to and their friends, and friends of their friends etc., so be ready to keep contacting them and sharing the campaign.
Crowdfunding Checklist
I have a specific activity or program to fundraise for

I have a detailed timeline for the funds

I have an exact amount needed to be raised

My goal amount is for one program or activity and is a portion

of my full annual budget

I have a plan for outreach, marketing and sharing of the

campaign once live

I have media for my campaign page
Tip: campaigns with video have greater success rates!
The Best Fundraising Option for You: The One That Works
After becoming fiscally sponsored, assess your project's capabilities, your constituency, and what may be best for your followers in terms of what fundraising avenue to take. Remember you will automatically be set up for General Support fundraising. You can then decide if your next step is to begin with building your long-lasting donor base, or funding for that next activity or up-coming program and building your exposure.